Creating a Perfect Fit for Your Application
Perforating services are provided at McKey using various types of presses and unique tooling packages. Some presses, as large as 500 tons, use state of the art electronics and special gagging techniques to create patterns and pilot holes. Much of this work continues on to stampers and fabricators who form parts into exhaust systems, tractor grilles, grass guards for engines, roof decking, computer housings, grain bin floors and many other applications.
CMM Capability
To provide a fully dimensional assessment of complex profiles, McKey uses one of the most advanced measuring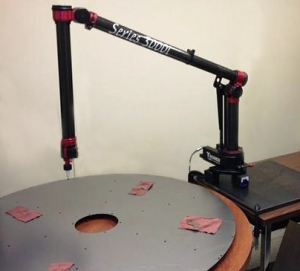 technologies – a coordinate measuring machine (CMM). The CMM uses a probe attached to a moving axis to read an object's physical geometrical characteristics, quickly and with a high degree of accuracy. The CMM probe records the X, Y, and Z coordinates of the target and displays these readings in a computerized readout. The CMM can measure practically any dimension for a part setup, including cams, riggings and distorted surfaces. Since probe contact is light, most parts can be measured without the need to secure the object as is required with time-consuming routing surface plate investigation strategies. CMM measurements eliminate the errors of hand-gage investigation strategies and exchange methods; while the CMM's computerized readout replaces subjective interpretation of dial and vernier measuring devices for enhanced accuracy.
CNC and Sectional Presses use cluster punch tooling, developed by McKey. They process material up to 1″ thick for use in grilles for huge tractors and construction equipment, also for crusher screens and shakers in mining, recycling pollution control and architectural applications. McKey also offers fabrication and has certified welder, brake presses, and lasering capabilities.
A wide variety of materials are available to meet your specifications, including:
Cold Rolled Steel
Galvanized Steel
Prepainted Steel
Aluminum
Plastic
By using superior materials and precision machinery, we provide perforated product that is practical, cost-effective and fits your application perfectly.